Employment Opportunities
Come and Join Our Team
If you are experienced, have references and are warm, caring, compassionate, patient, and dedicated to providing care for children, the sick, the disabled, or handicapped people, we have positions in Los Angeles County, Orange County, San Bernardino and Riverside areas. We are a placement agency looking for SPECIAL HOME CARE PROVIDERS WITH A GOLDEN HEART to join us at A-1 Domestic Professional Services, A-1 Home Care & A-1 Caregiver Agency.
Positions Available:
Aides
Baby Sitters
Caregivers or Companions (Live-In / Live-Out)
Certified Nurse Assistants (C.N.A.)
Certified Home Care Aides (C.H.H.A.)
Home Attendants
Homemakers
Hospital Sitters
Live In Caregivers
Mother's Helpers
Nannies
Nursing Home Sitters
Private Duty Nurse Aides
Respite Caregivers
Please apply in person at our Corporate Office:
Imperial Square Office Park
12631 Imperial Highway, Suite F-104
Santa Fe Springs Ca 90670
Tel: 562-929-8400 Fax: 562-929-8336
Application Hours: 9:00am – 3:30pm (Monday – Friday)
9:00am – 11:00am (Saturday)
EARN REWARDS WITH ANY QUALIFIED REFERRAL
"It Takes Two Helping Hands and a Golden Heart to Serve Others®"
To hire a companion caregiver, call A-1 Domestic Professional Services or A-1 Home Care or Orange County In-Home Care Services at 562-929-8400
Our Blog
Prolong Your Child's Life with Cystic Fibrosis Home Care
Currently with no cure, the terrible disease that claims that lives of millions of young people every year is cystic fibrosis (CF), a condition that severely damages the respiratory and digestive systems...
Posted Oct 31st, 2014
Success Stories
Caregiver's of the Month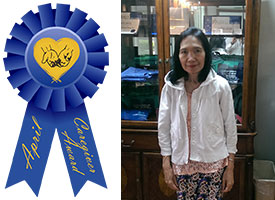 Copyright © 2018 Whittier In Home Care / A-1 Domestic Professional Services, Inc . All Rights Reserved